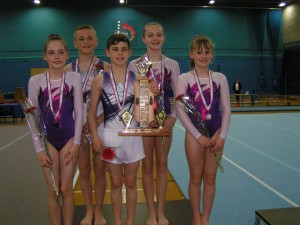 5 gymnasts from the Swallows of Helston recently took part in the British School's finals in Stoke On Trent in the Under 14 (mixed) event.
13 year old Maea Morgan, 12 year olds Cameron Wheat, Phoebe Jenkin and Matthew Heaney and 11 year old Shannon Standing all formed a great team against schools from all over the Country, including Northern Ireland.
The team compiled an unbeatable Vault tally of 60.90 out of a possible 64.00, and with a set of fantastic floor routines totalling 56.79 were the clear leaders by 5 whole marks after round three.
It was clearly nail biting stuff waiting for the final schools to take to the arena in round four!  The gymnasts were all of a good standard and some well executed floor routines were being produced.  Finally at around 5pm the competition had come to an end and the presentations began.
In 3rd were the team from Yorkshire, in 2nd were Coopers Company & Coburns and the Champions by a clear 2.00 marks were Helston Community College with a well deserved team total in excess of 117.00
Congratulations to all the gymnasts who have worked well together as a team.  Also special thanks as always to the Team coaches – Ainsti Hickman-Jones and Pat Hickman for all her choreography input.  The girls floor routines were amazing and so well performed.  Thank you to Jaron for travelling from Loughborough Uni to be with the boys and to our wonderful minibus driver Ian from HCC.