Results
Boys South West Festival 2022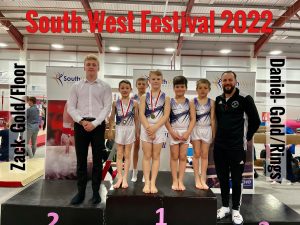 This event has last time been organized by the South West region in 2019.Our boys have been preparing for this event for the last few months and everyone was looking forward to it.
Five of our boys where going to make the journey to Barnstaple and compete in the Under 10 and Under 12 Compulsory section of the festival. This is a level where gymnasts compete on all six apparatus, Floor, Pommel Horse, Rings, Vault, Parallel Bars and High Bar.
All boys showed great composure during the event, especially considering the lack of competition experience caused by the lack of events over the last two years.
At the end of a challenging event we where pleased to see some great display of gymnastics from our gymnasts , culminating with Daniel winning the Gold medal on Rings in the Under 10 years old and Zack with Gold on Floor in the Under 12 years old.
We are very proud of all our gymnasts and are looking forwards to see them participate in future events.
Well Done Boys!!!
Boys South West Regional Qualifiers 2019
Hosted at Falcons Gymnastics Academy on 15th September 2019 ,the South West Regional Qualifiers 2019 was a great success for our gymnasts Toby and Zack ,with both gymnasts placing in Silver medal position in their respective age group.In the Under 8 years old age group Zack competed with great confidence considering his young age only to miss on a Gold medal by 0.3 overall.
In the Under 10 years old Toby demonstrated that he is able to deliver a good performance under pressure  as  he went trough his 7 routines to secure a place in the South West Team to represent the region at the National Finals in Birmingham in November this year.Toby very much like Zack missed on Gold medal by 0.1.
All being said great day and an amazing  performance by our gymnasts accompanied to the competition by Matthew and Elliot as judges and Edy as coach.
Cornwall County Floor & Vault 2018
Hosted by Swallows of Helston Gym, the Cornwall Novice&County Floor and Vault Championships was a success for all gymnasts representing our club.One of the youngest gymnasts to take part,  7 years old Zack finished the competition with Gold on Vault and Bronze all around.In the County level our Over 14 years old team, Cameron,Elliot, Matthew and Calum displayed a number of high level skills that not only impressed the audience, but helped them win Team Gold medal along with a number of individual medals.Well done boys!!!
Boys South West Grades 2018
Congratulations to Idris and Toby for qualifying to represent South West region at Grades National Final in Birmingham this year.Idris qualified for Level 5 finishing the competition in 4th place,while Toby , after an amazing performance finished the competition in first place on the Club Grades Level1. On Club Grades Level 2 , Alex and Harry had a good competition showing big improvements from last years event.A very successful competition following on the footsteps of our older gymnasts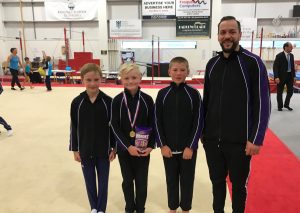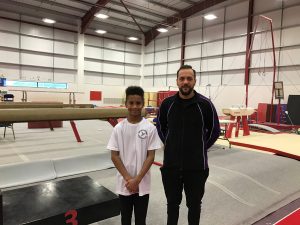 Matthew , Elliot (judges at this event) and Calum with great results at National level.
Zack-South West Regional Squad 2018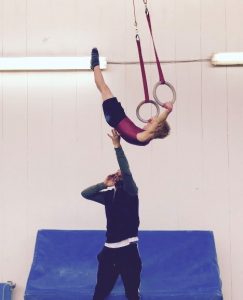 Great news for our club and 7 years old gymnast Zack , selected for the South West Regional Squad in 2018.Zack will be attending the South West centralised training alongside his colleague Idris already selected for the squad earlier this year. This accomplishment comes after a series of great performances, culminating with a Gold medal at the last South West Gymnastics Festival in April 2018. We are proud of Zack and looking forward to further support his development as a competitive gymnast.
Congratulations Zack!!!
South West Festival 2018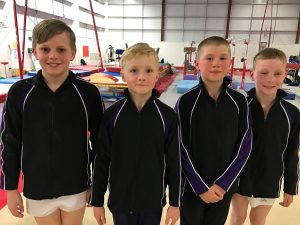 The South West Festival 2018 has taken place at Falcons Gymnastics Academy in Barnstaple between 14th-15th April. Eight of our Gymnasts have travelled to the event to take part in the Compulsory and Voluntary comps. All our boys have represented the club well with great performances across the board. Zack Gold on Vault on the Under 7 years old, Idris Gold on Rings on Voluntary Under 14, Matthew Silver on Pommel Horse and Rings, Elliot Bronze on Floor,Vault and All Around, Silver on Parallel Bars and High Bar, Gold on Rings. Toby,Harry, Alex and Cameron showed good performances in the Compulsory competition just missing on medals with Cameron 4th on Floor and Rings and all being very close to the top 3 on a number of Apparatus. Congratulations to all our Gymnasts, Judges(Elliot, Matt,Edy ) and our Boys Squad coach Edy!
 Grades National Finals 2017
Na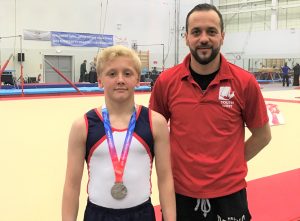 tional Elite Grades Finals 2017 have taken place at GMAC in Birmingham at the beginning of November. Our gymnast Elliot,  competed in the Elite Grades for the 6th year in a row, along with his South West team colleague Victor.At the end of a challenging competition the South West team finished in 2nd place, with Elliot stepping onto the podium to receive the Silver medal. Big congratulations to Elliot for all his amazing results representing the Club and South West Region at the highest level.
Cornwall Boys Apparatus – October 2017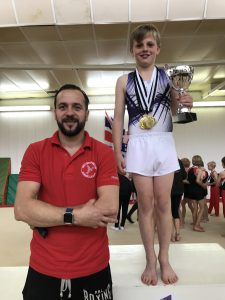 In the 12+ Years Old group, our gymnast Cameron J won Bronze on Vault,Gold on Floor,Pommel Horse,Rings,Parallel Bars ,High Bar and Gold for All Around, becoming 2017 County Champion !
South West Grades 2017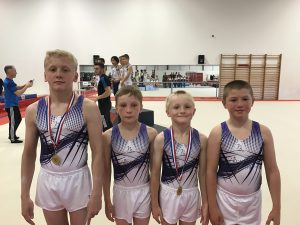 Congratulations  Toby for winning the Club Level 1 Under age Competition and becoming Under 8 Regional Champion!
In the Level 6 Elite competitions Elliot successfully qualified to represent the South West region at the Grades National Finals.This competition will take place between 3-5 November 2017 at GMAC in Birmingham.
2016
Men's Grades National Finals 2016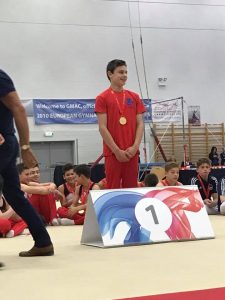 Representing swallows of Helston Gymnastics at this National Finals in Birmingham and part of the Level 6 South West Region Team, our 14 years old Matthew  achieved an historic result for Swallows Gym becoming the first gymnast in club's 40 years history to win Gold All Around at this level of competition.
Matthew also won Gold in the teams competition with the  South West Level 6 team.
Massive WELL DONE to Matthew and his personal coach Edy Bratu!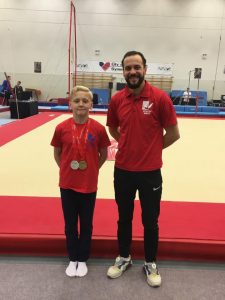 Continuing the high-level of gymnastics display, in the Elite Level 5 competition, Elliot had an amazing competition winning gold with the South West Team and Silver All Around.
As a result of his performance Elliot has been selected  to be part of the National Elite Performance Squad this being 5th year consecutively, making history for both Swallows Gymnastics and Cornwall.
CAGA L5,4,3,2 Apparatus Competition 19th June
On the 19th June 12 Swallows gymnasts travelled to Callywith to compete in the CAGA L5,4,3,2 Apparatus competition.  All the girls, some of whom were competing in their first competition at this level, did incredible well.  Ainsti and Mia are very proud of their gymnasts' achievements.
Thea Bolton, L5 9yrs group, won bronze on vault and gold on beam.
In the L5 10yrs group Keira Downing came 5th on beam and 5th overall, and Morwenna Holbrook came 5th on vault.
Competing in the L5 12yrs group, Enya-Leigh Keogh won bronze on vault, gold on beam and a silver overall.  Amy Manley won silver on vault and bronze on the bars.
In the L4 10yrs group Jessie Watt won bronze on bars and silver overall.
Ashleigh Price, L4 11yrs group, won gold on vault, gold on bars, gold on beam, silver on floor and gold overall.
Kaitlyn Standing, who competed in 12 years group, won bronze on vault, bronze on bars, bronze on beam, gold on floor and bronze overall.  Also in this level was Zara Mitchell who won gold on the vault,bars and beam and a silver on the floor.  Zara also won the gold overall.
Competing in the L4 13yrs group, Katie McCartney won bronze on vault, gold on bars, silver on beam, gold on floor and gold overall.  Claudia Kitchen won bronze on bars.
Shannon Standing, competed in the L4 14yrs+ group, won silver on vault, gold on beam, gold on floor and silver overall.
Well done girls and a big thank you to our coaches.
For full results please see the gym notice board.
2015
Level 6 App 2015 Results 7 8 9 Years
Level 6 App 2015 Results 10 11 Years
Level 6 App 2015 Results 13 15 Years